Nature - Services - Vacation
Lootholma in Kustavi offers a unique way of spending your summer right by the sea with all necessary services nearby.

It is an exclusive experience for a traveler whether you love boating, nature or pack-packing. You can accommodate yourself right by the beautiful sea in the middle of nature.

Our restaurant offers delicious culinary experiences made from local ingredients. You can take part in a fishing trip or enjoy our incredible beach among other activities offered by the area. Our staff welcomes everyone to Lootholma Kustavi!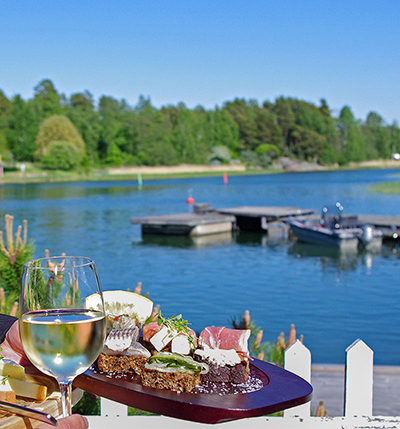 In Lootholma, you can find a guest marina, beach saunas, and a camping site suitable for caravanners. The restaurant in the area has been newly renovated and serves people with a new flair. The guest marina offers showers and saunas and a washing room with a dishwasher.
You can rent and buy vacation apartments in the Island Village. For more information call +358505741339.
Fuel is sold at our station around the year.
Ask more information about our conference packages and other experiences. Our conference packages often consist of the following elements: food, accommodation in a yurt, climbing the rock cliffs in Kustavi, exploring Kustavi's ancient hooch fairways, fishing, music, the whole restaurant operating as a conference room for up to 200 people and two saunas. At summer 2019 was built new conference facilities with beautiful sea view.
The fuel distribution for boats operates 24 h. Automatic station with 98 E and Diesel. It is also possible to empty septic tanks and bilge water in the marina.